MONA Light Walks - Radiant Route 66 Part 2
---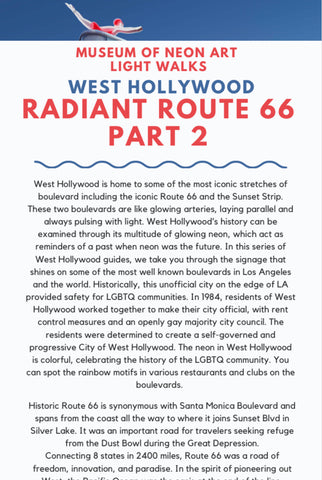 Please note: This item is a free digital download.
Part 2 of 2: Route 66 – West Hollywood
Historic Route 66 is synonymous with Santa Monica Boulevard and spans from the coast all the way to where it joins Sunset Blvd in Silver Lake. It was an important road for travelers seeking refuge from the Dust Bowl during the Great Depression.Connecting 8 states in 2400 miles, Route 66 was a road of freedom, innovation, and paradise. In the spirit of pioneering out West, the Pacific Ocean was the oasis at the end of the line. This section of the historical route, and its neon, signify the illuminated optimism of the West. This American roadway has changed quite a bit since its glory days, but the presence of neon
signs are remnants of the great automobile voyage.
Related Products
---