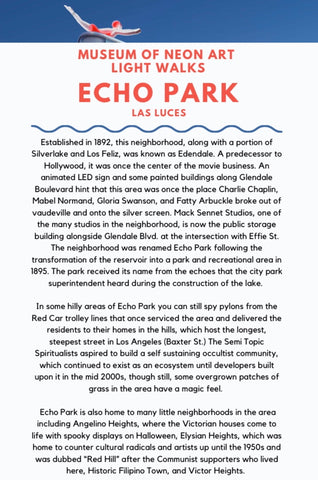 Please note: This item is a free digital download.
Take this self guided tour of Echo Park and walk the storied streets of this neighborhood established in 1892. A predecessor to Hollywood, Echo Park was once the center of the movie business. Pass by locally beloved spots such as Taix, EchoPlex, Jensen's and more. As you wander through this town, you may even spot the pylons from the Red Car Trolley lines that once serviced the area! 
Recently the Museum of Neon Art removed the House of Spirits signage, which dated from the late 1940s and 1950s, after a part of it had been stolen. The Museum wants to preserve this sign, which has played an important role in the Echo Park landscape for future generations, and hopes to negotiate a new home for the sign in Echo Park, despite sign ordinances and other matters that make mounting a sign as large as House of Spirits challenging. However, history has shown that Echo Park and its community are resilient, imaginative, dreamers who can pave the way for the improbable. 
Related Products
---