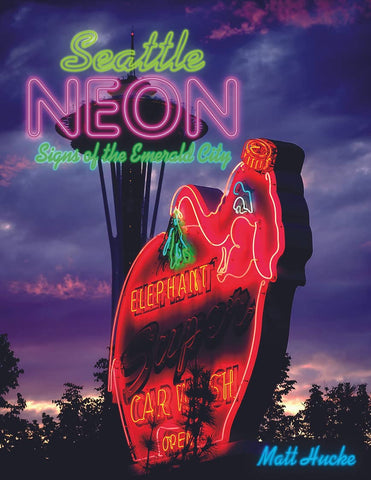 Seattle is losing its character. Decades-old businesses are being driven out of the city by rent increases, by skyrocketing land value, by petty crime, by the pandemic, or by the twenty-first century rendering old business models obsolete. 
Our neon heritage, too, is disappearing. Some of the best and most historic pieces—the Rainier Brewery "R," the pink elephants of Elephant Car Wash, the Buckaroo Tavern's cowboy—have been taken from their original locations, but can still be found on display in museums or in buildings owned by neon enthusiasts. 
Page after page of this book provides extensive neon history along with a full-color collection of over 450 brilliant, whimsical, outlandish, and downright spectacular signs by Seattle photographer and local history enthusiast, Matt Hucke.
Location information is provided for all signs, making this book the perfect resource for self-guided walking tours.
174 pages.
Related Products
---