OPEN STUDIO with Tyler, 9/29/23
---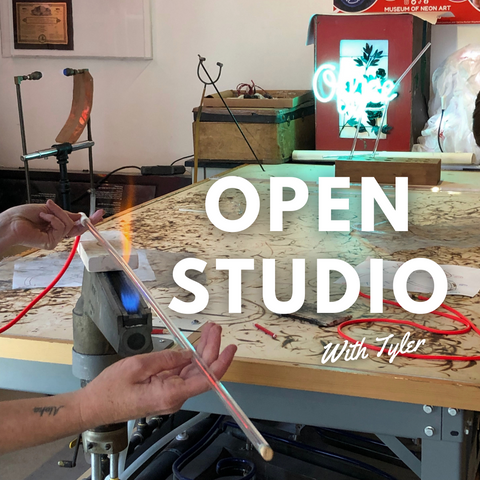 Join Tyler, MONA's Electric Lab Manager, for an evening of neon bending practice, experimentation, and freestyle creation. Participants will receive a safety orientation, basic instruction, 6 sticks of clear glass, and access to the fires and other equipment necessary for bending. For an additional fee, participants who have made technically sound bends may also leave their finished pieces to be processed and purchase transformers.
This inaugural OPEN STUDIO experience is only available to folks who have previously taken a neon class at the Museum of Neon Art. Previous class experience will be verified.
OPEN STUDIO with Tyler
Friday, September 29, 2023
7pm - 10pm
$125 General Admission, $100 MONA Members
MONA Members at the ARGON level or above may enter the discount code CODE at checkout. All Memberships will be verified.
Enrollment deadline is 48 hours before the start of the class. In the event you want to be put on a waiting list for a class or you're trying to sign up past the 48-hour deadline, please call us at 818.696.2149 or email us at info@neonmona.org. Want to participate but the class is sold out? Email us at info@neonmona.org to inquire about our waiting list. 
Cancellation requests must be received 2 weeks before the start date of the class. We reserve the right to cancel the class due to insufficient enrollment, in which case your tuition will be fully refunded.
Related Products
---